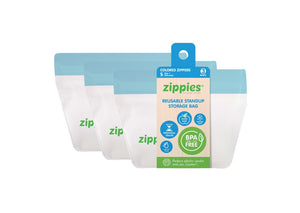 Zippies Color Pastel Series Reusable Standup Bags Small 3-Pack (All Blue)
Your favorite bags are now in colored zippers! Now in these happy and vibrant colors, Zippies Color Reusable Standup Bags are made easier and more fun for you to sort your things! 
Zippies are the revolutionary reusable storage bags that are perfect for storing food, travel items, for home organization and more.
made of food safe, PEVA material and are PVC, free, lead free and BPA free.
with double lock closure zips that locks in freshness and are freezer safe. They are easy to clean and can be used over and over again.
not intended for use with heat 
perfect to use for storing items in the fridge like fruits, veggies and meats, and storing children snacks, small baby teething toys and accessories.
can be wiped down with disinfecting solution like alcohol.
Anything you always stored in a single-use zipper bag, you can also store in a Zippies bag. With a Zippies bag, it'll be a whole lot easier to organize things at home, at work or just about any place that needs tidying up, while being kind to the environment!
How to clean your Zippies: Clean gently using dishwashing liquid and room temperature water only. Air dry or wipe dry after. If visible stains or stench smell remains, make a paste by mixing baking soda with water and rub onto the bags gently using a soft scrub.
Small: 4.5 x 6 x2 inches, 8oz/236.6ml
NOTE: This pack has 3 pcs of small sized bags all in BLUE color.